U.S. News & World Report Ranks Daytona State Among the Nation's Best Online Bachelor's Programs for 11th Straight Year
DSC also retains top rankings for Best Online Bachelor's Program for Veterans and Best Online Bachelor's Business Program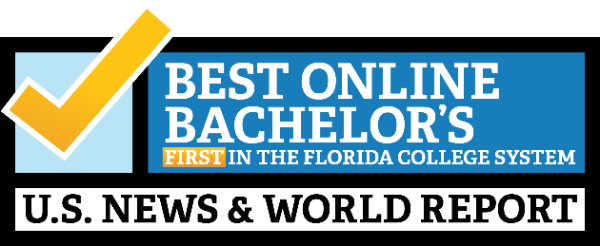 DAYTONA BEACH, FLA. (January 24, 2023) – For the 11th straight year, Daytona State College has been recognized by U.S. News & World Report for offering one of the Best Online Bachelor's Degree Programs in the nation. Daytona State is once again the highest ranked public state college in Florida and the only school in the magazine's Top 50 that is not a university.
U.S. News & World Report ranked Daytona State 35th in the nation for the Best Online Bachelor's Program, 20th in the nation for the Best Online Bachelor's Program for Veterans, and 141st in the nation for Best Online Bachelor's Business Program.
"Our continued top placement is a testament to the dedication and commitment of our faculty and staff to provide students with best possible preparation for their careers and lives," said Daytona State President Tom LoBasso. "Our mission is to provide accessible, affordable and valuable education to anyone who desires it, and it's great to be recognized for our work."
U.S. News & World Report ranks schools according to their performance across a set of widely accepted indicators of excellence that include four general categories: engagement, services and technologies, faculty credentials and training, and expert opinion. The expert opinion category surveys high-ranking academic officials to help account for intangible factors affecting program quality that are not captured by statistics alone.
Daytona State College began offering bachelor's degrees in 2006 with the Bachelor's in Applied Science in Supervision and Management. Since then, the College has added bachelor's programs in Engineering Technology (BSET), Information Technology (BSIT), Elementary Education, Secondary Education (with specializations), Nursing and Accounting, bringing the total number to 12. The Bachelor of Science in Supervision and Management, BSET, BSIT, and Bachelor of Science in Nursing can be completed entirely online.
# # #
Offering more than 100 certificate, associate and bachelor's degree programs, Daytona State College is the leader in education and workforce training needs of Volusia and Flagler counties and beyond for more than 60 years. The College enrolls approximately 23,000 students a year at its seven campuses, with graduates serving in critical fields including healthcare, emergency services and public safety, business, education, hospitality, engineering, technology, digital media, and more.
In addition to our recognition by U.S. News & World Report, Daytona State has been regularly lauded as a leader in higher education. The U.S. Department of Education's College Affordability and Transparency Center ranks DSC among the top 50 most affordable public four-year institutions in the country, with less than half the tuition of the national average. Community College Week, a leading publication in higher education, annually features Daytona State in its list of Top 100 Associate Degree Producers. And Intelligent.com named Daytona State among the Best In-Person and Online Colleges nationwide.