Daytona State College Student Cybersecurity Team Dominates First Statewide Competition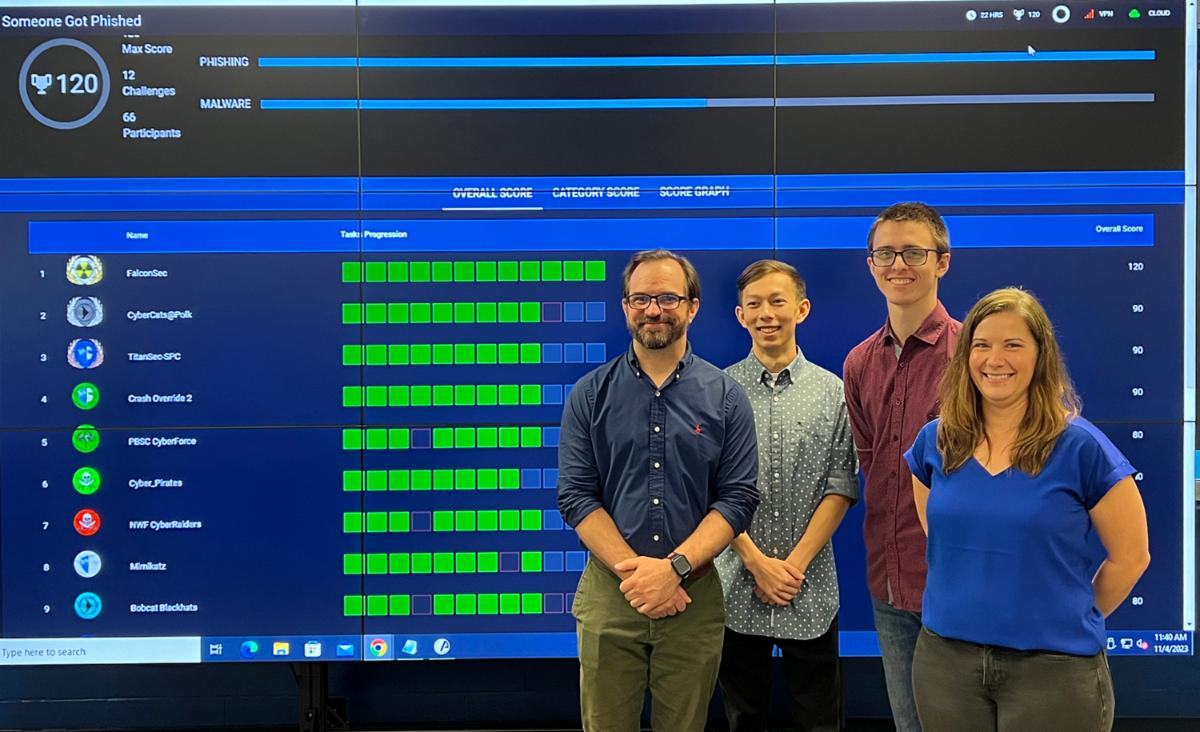 DSC FalconSec team members Brian McGrath, Caleb Pintello, Craig Sava and Jess Harness took first place in a statewide cybersecurity competition, besting 18 teams and setting a new record by completing the challenges in record time with a perfect score.
DAYTONA BEACH, FLA (November 14, 2023) – In a historic win, Daytona State's FalconSec student cybersecurity team took first place in a statewide competition, beating 18 teams from 13 other Florida state colleges competing to solve a phishing attack and a malware analysis.
The team was comprised of four students in DSC's Associate of Science in Networking Services Technology program and the Bachelor of Science in Information Technology (with cybersecurity concentration) program. The team, managed by Professor Timothy Pintello and coached by Pintello and fellow faculty member Patrick Vilkinofsky, completed the tests with a perfect score in a record-setting time of 1 hour, 15 minutes.
FalconSec was the only team in the inaugural Cyber Security Web-Based Team Competition, sponsored by the Florida College System, to complete the challenges within the allotted three hours with a perfect score. A representative with GBSI, a Pensacola-based IT services firm that has helped organize similar competitions worldwide, said the DSC team resolved the challenges faster and more accurately than any team in any previous competition.
"This is a tremendous win for the FalconSec team and for Daytona State," said President Tom LoBasso. "We offer one of the most rigorous and highly regarded cybersecurity programs in the state and the results of this competition prove it."
The FalconSec team included Brian McGrath and Jess Harness, who are pursuing Associate of Science degrees in Networking Services Technology, and Craig Sava and Caleb Pintello, who are pursuing Bachelor of Science in Information Technology degrees. The group elected McGrath to serve as team captain. McGrath was instrumental in organizing the team when the College first learned of the competition in September.
The Nov. 4 competition was also the inaugural use of DSC's Training Security Operations Center at the Advanced Technology College.
"Our Security Operations Center creates a simulated network environment with live data that allows instructors to create scenarios, like malware attacks or hacker penetration," said Anindya Paul, Chair of the School of Computer Science. "The scenarios provide our students with training experiences that mirror actual cybersecurity situations, enabling them to develop network protection skills in a risk-free setting that poses no danger to real-world networks. Employers across the economy recognize that cybersecurity skilled workers are essential, and expanding the cybersecurity talent pipeline remains one of the most critical workforce challenges of our time. Our cybersecurity center allows us to prepare our students to enter the workforce and be ready to work on Day One."
"This was an incredible team effort that included support from DSC's IT Department and the professors and department chairs for our Cybersecurity classes," Pintello said. "Completing the challenges in a little over an hour sets a high bar for future competitors, and we fully intend to defend our record."
Daytona State offers an Advanced Technical Certificate in Cybersecurity and Cyberforensics program that provides students pursuing a Bachelor of Science degree with an understanding of technical and management aspects of computer and network security and forensics using exposition of theory, laws, and technical forensic and security tools and techniques. Students build their skills via hands-on projects where they are required to combine theory, legal issues and technical knowledge to solve real-world problems. The program incorporates innovative, tested methods of instruction with hands-on lab work to encourage student learning and success.
Daytona State created The Center of Academic Excellence in Cyber Defense in 2013 through a grant from the National Science Foundation Advanced Technological Education program. Since its inception, the Center – housed in DSC's Advanced Technology College – has focused on providing training in the critical areas of cybersecurity and cyberforensics. In 2016 the Center was designated as a National Center for Academic Excellence for Cyber Defense (CAE-CD) by the National Security Agency/Central Security Service.
In January 2023, the National Security Agency redesignated Daytona State College as a National Center of Academic Excellence in Cyber Defense through 2028.
To learn more about DSC's Cybersecurity and Cyberforensics programs, visit http://bit.ly/DSC_Cyber [bit.ly].
# # #
Offering more than 100 certificate, associate and bachelor's degree programs, Daytona State College is the leader in education and workforce training needs of Volusia and Flagler counties and beyond. The College enrolls approximately 23,000 students a year at its seven campuses, with graduates serving in critical fields including healthcare, emergency services and public safety, business, education, hospitality, engineering, project management, accounting, computer science, digital media, and more.
Daytona State has been recognized as a leader in higher education numerous times. U.S. News & World Report ranks the College among the Top Tier Best Online Bachelor's Programs. The U.S. Department of Education's College Affordability and Transparency Center ranks DSC among the top 50 most affordable public four-year institutions in the country, with less than half the tuition of the national average. And U.S. News & World Report has ranked DSC among its Top Online Bachelor's Programs for Veterans multiple times.