Falcon HOPE Center
Our mission is to prepare, empower, and support a diverse student population in achieving their educational, professional, and personal goals.
Support Provided
Falcon Fuel Grab & Go Food Pantry - free light snacks and small nonperishable food items for currently enrolled students.
Emergency Transportation - temporary emergency bus passes are available for currently enrolled DSC student that have an emergency need for transportation to campus.
Emergency Shelter Resources
Computer Lab with free printing
Professional Clothing Closet - for students who want to achieve a professional image for job interviews and employment.
Laundry Vouchers
School Supplies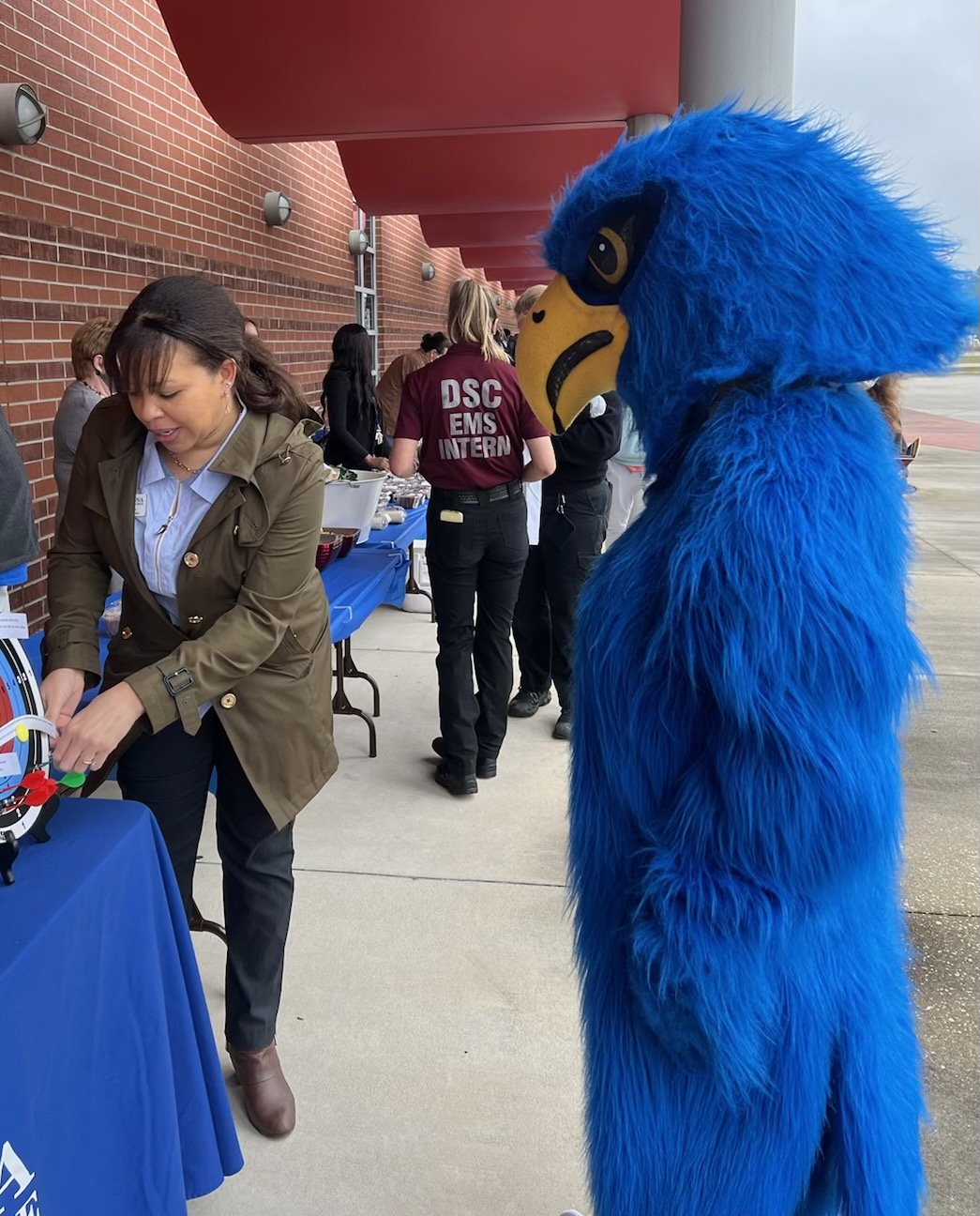 DOJ-OVW Grant
Daytona State College was awarded a $300,000 grant from the U.S. Department of Justice (DOJ) and the Office on Violence Against Women (OVW). This grant has provided funding for the establishment and continuation of efforts to create awareness and combat the issues of domestic violence, dating violence, sexual assault, stalking and cyberstalking. The Cultivating Awareness through Responsibility and Empowerment (CARE) committee, which consists of a team of college staff and community partners, was established as part of this grant to help meet mandatory requirements for training, awareness, and prevention and to coordinate access to community-based victim advocacy and services. Community partners include Volusia Rape Crisis Center, Family Life Center in Flagler County, the Office of the State Attorney 7th Judicial Court, and Daytona Beach Police Department.
Housing Insecurity FAQ's
How does a student verify homeless status to receive services?

In accordance with statute 1009.25 (1)(f), students who lack a fixed residence are eligible to receive a waiver for their tuition (books and supplies are NOT included). Students must provide a letter on letterhead from a Florida agency whose mission is to assist homeless individuals. The student must be residing in Florida while taking classes. Letters must be dated within 30 days of the start date of classes. Letters will be verified one week prior to the start date of classes. The student must still be receiving services from the agency at the time of verification.

What if I wanted someone to talk to that understands my situation?

Students receiving the homeless exemption are assigned a staff/faculty mentor who will monitor progress, advocate for needs, and serve as a campus and community resource. It is crucial that students maintain regular correspond with their mentors for best success.

Do I need a Florida ID?

Students are encouraged to obtain Florida identification within an academic year of obtaining a homeless exemption.

How long can I receive the tuition exemption?

Students who have already obtained a Bachelor's degree or beyond may not be eligible for a Homeless Exemption.

Students receiving the Homeless Exemption are expected to maintain a semester grade point average (GPA) of 2.0 or higher, meet the standards of academic progress, and demonstrate gains towards degree completion. If a student withdraws from ALL registered classes while utilizing a homeless fee exemption, they may not be eligible for future Homeless Fee Exemptions. This is appeal eligible with documentation proving extenuating circumstances.

What if I still need more money to support myself while in school?

Students are encouraged to complete the Free Application for Federal Student Aid (FAFSA) each year.

What other services are offered to students experiencing homelessness?

31-day bus passes are typically distributed until Financial Aid is disbursed. If for some reason a student is not Financial Aid eligible, or the program of study is not Financial Aid eligible, students may continue to receive transportation assistance.
Students may be eligible for DSC gym membership after one complete semester with a 2.0 or better GPA.
Students receiving Homeless Fee Exemption are encouraged to meet with an academic advisor each semester to ensure academic success and best planning practices.
Weekly laundry vouchers, soap and dryer sheets are available.
Daytona State College offers an extensive food program with snacks, lunches, and a food pantry
Students are able to access the gym for a shower
Students are offered free haircuts compliments of our Cosmetology & Barbering program
Falcon HOPE Center
Office Hours
Monday - Friday: 8 a.m. - 5 p.m.
Have you found what you're looking for? If not, here are some more helpful pages: