Association of Florida Colleges (AFC)
What is AFC?
The Association of Florida Colleges (AFC) is the professional association for Florida's 28 public state and community colleges, their boards, employees, retirees and associates.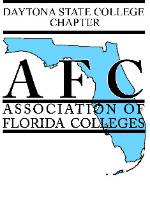 AFC is the only organization in Florida that belongs to and supports us as state college employees. Its purpose is to help the Florida Legislature understand the role state colleges play in higher education, and to advocate for strong and viable state colleges in Florida.
All 28 of Florida's state and community colleges support the work of the association through institutional dues, as do more than 9,000 individual college employees and retirees through individual memberships, and the sharing of their talents, time and energy.
Daytona State College currently boasts more than 360 members in the Daytona State AFC Chapter. Many elect to pay their annual dues by payroll deduction. For as little as $1.46 per pay period you, too, can become a member and help to support our College and its mission.